About GeoTeva Environmental Consulting Ltd.
GeoTeva is a leading company for Environmental Consulting and Planning, founded in 1999 by David Meninger.
Our company specializes in various aspects of sustainability planning including the environment, society, economics, and engineering.
Geoteva engages in providing creative solutions for preservation and development in order to work towards innovation solutions to address today's environmental challenges. Our professional staff host a variety of deep knowledge sets within the fields of Ecology, Geomorphology, Hydrology, Planning, Green Building, and Environmental Engineering.
With a broad scope of expertise, our consultants additionally aide in projects which encourage the development of tourism, reclaiming and restoring disturbed natural areas, and environmental compensation.
In the consultation process, Geoteva's consultants accompany the clients from examining the initial feasibility of projects through to the monitoring stages after the project is established.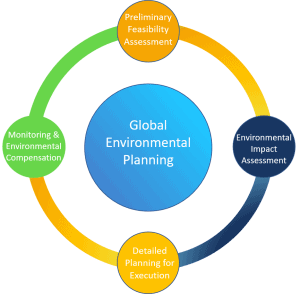 Capabilities in the different stages of work
Planning and guidance in regulatory stages:
Feasibility analysis for "Eco-finance"
Feasibility analysis of project plan
Ecological surveys and feasibility surveys
Environmental surveys and guidance in the regulation stage
Landscape-Environmental Report
Environmental Impact Report
Master plans for open spaces with emphases on ecology and tourism
Air pollution surveys
Drainage and Hydrological reports
Tree surveys
Waste disposal
Acoustics report
Geophyte surveys
Surveys of threatened and endangered species
Ecological surveys including avian and bat species
Soil erosion studies
Surveys of odor dispersal
Landscape Architecture
Detailed planning for project undertaking
Green Building plans for neighborhoods
Landscape Architecture
Shading analyses
Simulations of energy efficiency in the structure using ENERGYui
Supervising and guidance during work in the field
Accompanying project managers in gaining Green Building Certification according to the Israel Standard for Green Building (5281)
Report of ecological recommendations for urban nature sites
Hydrological support for building permits
Hydrological review for contractor work plans
Environmental monitoring and compensation after construction
Restoration of quarries
Restoration of Earthworks
Restoration and rehabilitation of natural areas and damaged landscapes
Conservation and restoration of drainage areas and river basins
Eco-Tourism and Landscape Consulting
Consultation in the field of sustainable infrastructure and report preparation under the regulations for the National Outline Plane 41 for the Ministry of Energy and Water
Environmental Planning and Green Building
Geo Teva takes part in a variety of settings  (urban, rural, and industrial) throughout the country, including surveys and impact assessments. Our consultants operate in all stages of planning, including detailed planning for project implementation.
Ecology and Management of Natural Resources
The Geo Teva team has the capabilities and experience with planning the open landscape and related project in Israel and uses the best tools in the field to design the most out-of-the-box sustainable solutions to the many challenges facing planners.
The first-hand experience and vast knowledge accumulated by the Hydrology team of Geo Teva regarding planning for open spaces in Israel enables us to come up with the best available solutions to the challenges facing any new project. Our work includes field surveys, GIS modeling, and recommendations for project implementation.
Energy and Environmental Engineering
Geo Teva has vast experience in the area of Alternative and Green Energy, and has taken part in leading projects throughout Israel in all types of clean energy: Thermosolar, Photo voltaic, and wind energy. All of our consultations include complete guidance through all stages of planning and regulatory committees.